Claire Cunningham opens KS2 Sports Day
Claire Cunningham opens KS2 Sports Day
23 June 2017 (by Philippa Bradbury (pbradbury))
On 23rd June 2017, Claire Cunningham former Paralympic Champion swimmer and currently an international paratriathlete will open Discovery's KS2 Sports Day.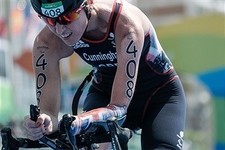 Clare began her sport career as a swimmer, representing Great Britain on the World stage from the age of 13. Clare competed in two Paralympic Games, winning a gold medal and four silver medals in Barcelona in 1992, aged just 15. After retiring from swimming in 1996, Clare pursued a successful career in Forensic Accounting in London for 14 years.
In 2006, Clare discovered triathlon and in 2009 competed in her first paratriathlon competitions and became World, European and British Champion. Since 2009 she has been a regular medalist at World and European Championships and a winner of five ITU World Paratriathlon International Events in 2014 and 2015. In 2016 Clare competed in the inaugural Paralympic triathlon in Rio de Janeiro, 20 years after her previous appearance in a Paralympic Games. She finished 7th.
After four years on the UKSport funded World Class Performance Programme, Clare retired from international paratriathlon after the 2016 Paralympic Games. In 2017 she will change her focus to longer distance racing and will make her debut over the middle distance in May 2017.
If you wish to contact Clare regarding further information and media/sponsorship enquiries please use the link at the top right of this page. You can also use the links at the top right of this page to view her Facebook page and follow her on Twitter.