English as an additional language (EAL)
Discovery Primary School is proud of being a school that has children from many different ethnic backgrounds. We see each child as an individual and aim to provide a nurturing and stimulating environment in which they can flourish and realise their potential.
At Discovery Primary School, we can speak 27 different languages!
We value and respect all the languages and faiths within our community. To celebrate this, every month we have a 'Language of the Month'. Whole-school assemblies are held that focus on key phrases that enable everyone to learn the basics. These phrases are then practised in class and are displayed in the corridors. We also have our Language Ambassadors to represent these languages.
Our school has made links with children and teachers in other countries. We have an active link and partnership with a primary school in Kaunas, Lithuania.
If your child is offered a place at Discovery Primary School and their first language is not English, you will be given an interview date with out EAL Co-ordinator, Mrs Tapera, and our Parent Partnership Advisor, Mark Siggery. You can download this PDF to help your child practise key words/phrases in English and their own home language before they start school.
EAL Quality Mark - Gold Award!
Over the past few years, Discovery Primary School has welcomed many pupils who have English as an Additional Language and currently celebrate having 25 different languages spoken by children of 27 different ethnicities. DPS, its teachers and its children are therefore thrilled to have been awarded the EAL Quality Mark Gold Award by the EAL Academy for their excellence in teaching and learning provision for these children.
This multicultural school is very proud of their latest achievement as recognition of their hard work with supporting not only EAL pupils, but also their families. Children's cultural heritage, religion and language skills are embraced and celebrated through a range of school events each year, such as: European Day of Languages, Diwali, The Commonwealth Bake Off and Language of the Month activities. The parents of EAL pupils at DPS are also invited to these events and encouraged to share their knowledge and experiences with the whole school, further developing children's learning and understanding of all cultures.
The teachers at DPS value and build upon EAL pupils' previous learning experiences, as well as their skill in their mother tongue. These children are therefore able to overcome any English language barriers to learning and make accelerated progress.
DPS also has pupil Language Ambassadors within each year group, who are very proud to be part of their school community, sharing ideas on how to improve their learning. Sara Mclaughin, the EAL Academy assessor, was impressed with the work that has been put in place to make EAL children and their families feel welcome.
DPS would like to thank all staff, but especially their EAL Team - Mrs Tapera, who is the EAL coordinator, Miss Lenka and Mrs Garner. They are dedicated in providing excellent support in EAL for children, their families and staff within the school. DPS are happy to welcome you to visit and meet their children!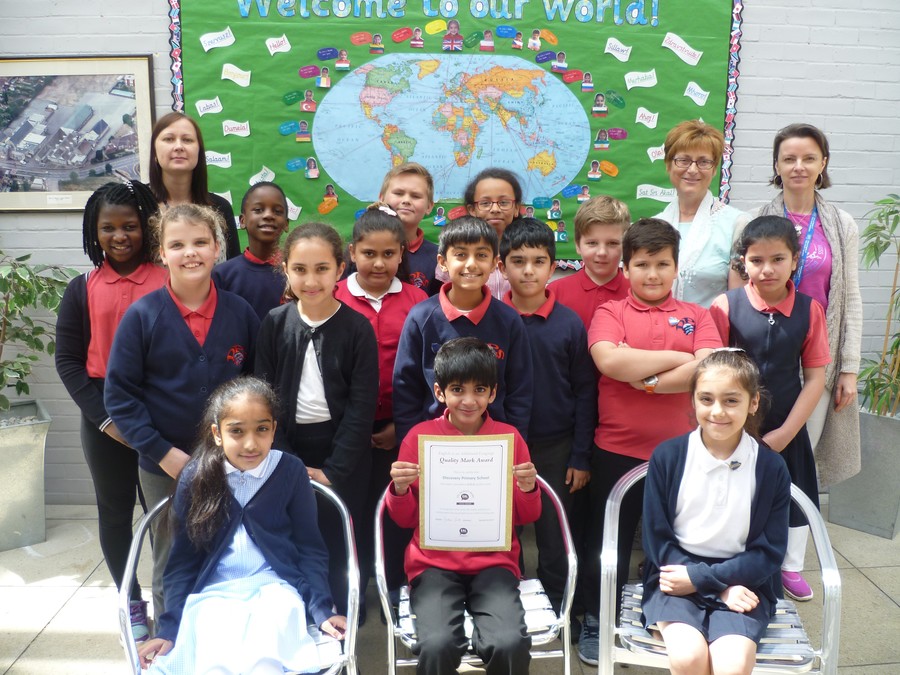 What's on
Commonwealth Bake Off 17th March 2017
What a fantastic week of learning all about the Commonwealth countries! The children particularly enjoyed playing African Drums and preparing various Commonwealth dishes. Our little chefs in Reception baked and decorated Lammingtons Cakes. Year 1 children made a lovely Victoria Sponge and healthy cucumber sandwiches. They had some fresh strawberries with cream for their pudding. Year 2 were busy baking Malaysian Pineapple Pastries and Flatbread. Year 3 chopped lots of onions and tomatoes for their Indian Chutney and Cucumber Raita. Year 4 made Maple Syrup Crunchies, using Rice Krispies and marshmallows. Year 5 baked some Orange Cookies and also made Tzatziki. Year 6 tasted some Jamaican rice with red kidney beans and coconut milk. They also made a refreshing, fruity punch.
A big Thank you to all the parents and carers who came to taste our Commonwealth Bake Off dishes. Thank you to all the teachers and teaching assistants for helping to organise this exciting day!
Our Top Chefs have received a very special Bake Off certificate for their cooking skills! Congratulations!
Enter text...
'Language of the Month' for 2016/17:
September: Polish
October: Panjabi
November: Lithuanian
December: Portuguese
January: Slovak
February: Romanian
March: Latvian
April: Shona
May:Hungarian
June: Czech
July: Urdu
May Language of the Month: Urdu
There are about 105,000,000 people in the world who can speak Urdu.
Urdu is the official language of Pakistan. It is also spoken in Afghanistan, Bahrain, Bangladesh, Botswana, Fiji, Germany, Guyana, India, Malawi, Mauritius, Nepal, Norway, Oman, Qatar, Saudi Arabia, South Africa, Thailand, UAE, United Kingdom and Zambia.